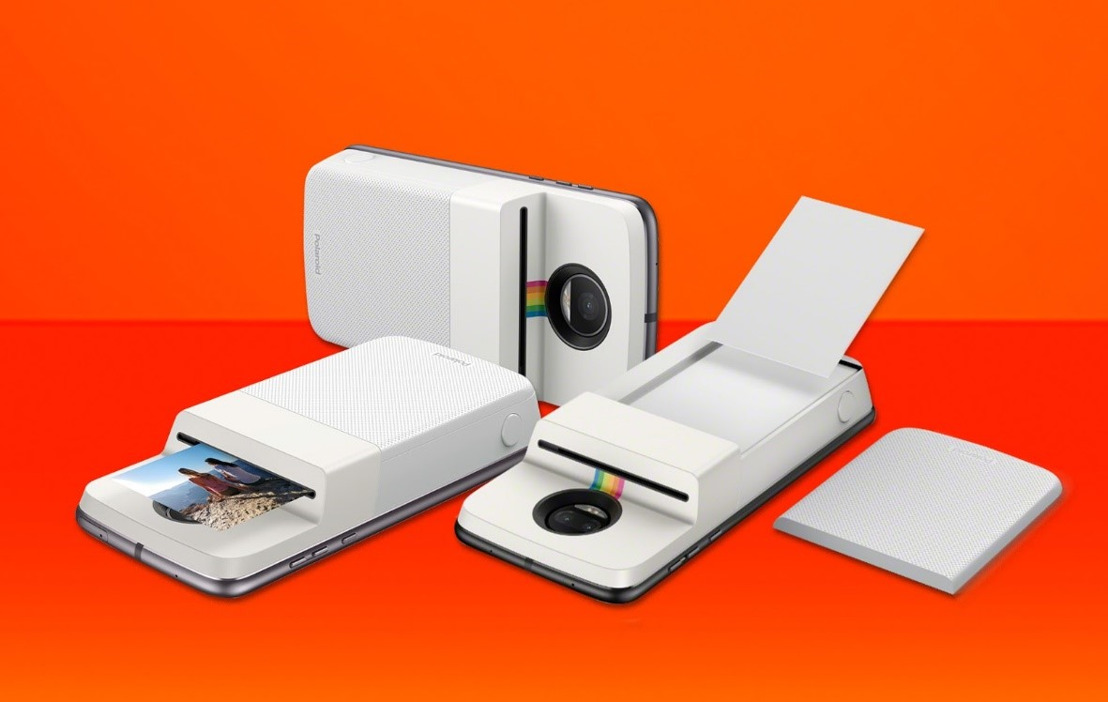 Cliquez, imprimez et partagez des photos partout avec le Polaroid Insta-Share Printer MotoMod
Jeudi 16 novembre 2017 — Transformez votre smartphone en une imprimante photo et partagez vos plus beaux moments avec le nouveau Polaroid Insta-Share Printer MotoMod. Ce MotoMod est la dernière innovation en matière d'impression directe et donne vie à vos photos en quelques secondes. Clipsez le Mod sur votre Moto Z, appuyez sur le bouton physique pour prendre une photo et imprimez directement la photo depuis votre smartphone. Vous pouvez aussi imprimer facilement des clichés à partir de Facebook, d'Instagram et de Google Photos.
Le papier Polaroid Premium ZINK® Zero-Ink® vous permet d'imprimer en format 2x3'' sans taches d'encre. Vous pouvez, du reste, coller les photos n'importe où grâce au verso adhésif.
Disponibilités et prix
Le nouveau Polaroid Insta-Share Printer sera disponible dès janvier 2018 au prix de 169 €.
Vous retrouverez plus d'informations sur ce nouveau MotoMod dans le communiqué de presse en anglais ci-dessous.
___________________

UK PRESS RELEASE
Snap, Print and Share Anywhere with Polaroid Insta-Share Printer Moto Mod
Turn your smartphone into an instant photo printer to share your moment, in the moment, with the new Polaroid Insta-Share Printer moto mod. Your moto z already captures all your favorite moments, and now you can treasure them with the latest innovation in instant printing. The Polaroid Insta-Share Printer brings your photos to life in seconds, letting you enjoy photos beyond your smartphone screen.
Simply snap the mod on your moto z, click the physical button to launch the camera and take a picture, then print right from your phone. The Polaroid Insta-Share Printer even allows you to print your favorite pictures from Facebook, Instagram and Google Photos.
Show your creative side by customizing photos with filters, borders and text so they are as original as you. Plus, with Polaroid Premium ZINK® Zero-Ink® Paper, you can print beautiful 2x3" smudge-proof photos on the spot without the mess of ink.
Once your favorite photos have printed, share the fun by peeling off the adhesive back and sticking them anywhere and everywhere. Whether it's a spontaneous road trip with friends or a holiday gathering with family, all your important moments are easily captured and beautifully displayed with the Polaroid Insta-Share Printer moto mod.
Availability and Pricing
The new Polaroid Insta-Share Printer will be available in Belgium in January.
Images can be found here (you agree to our license terms when downloading images or video).
Designed and manufactured by/for Motorola Mobility, a wholly owned subsidiary of Lenovo.
MOTOROLA, the Stylized M Logo, MOTO and the MOTO family of marks are trademarks of Motorola Trademark Holdings, LLC. Polaroid, Polaroid Classic Border Logo and Polaroid Color Spectrum are trademarks of PLR IP Holdings, LLC. All other trademarks are the property of their respective owners. © 2017 Motorola Mobility LLC
About Motorola
Motorola Mobility LLC was acquired by Lenovo Group Holdings in 2015. Motorola Mobility is a wholly owned subsidiary of Lenovo, and is responsible for designing and manufacturing all Moto branded mobile handsets.