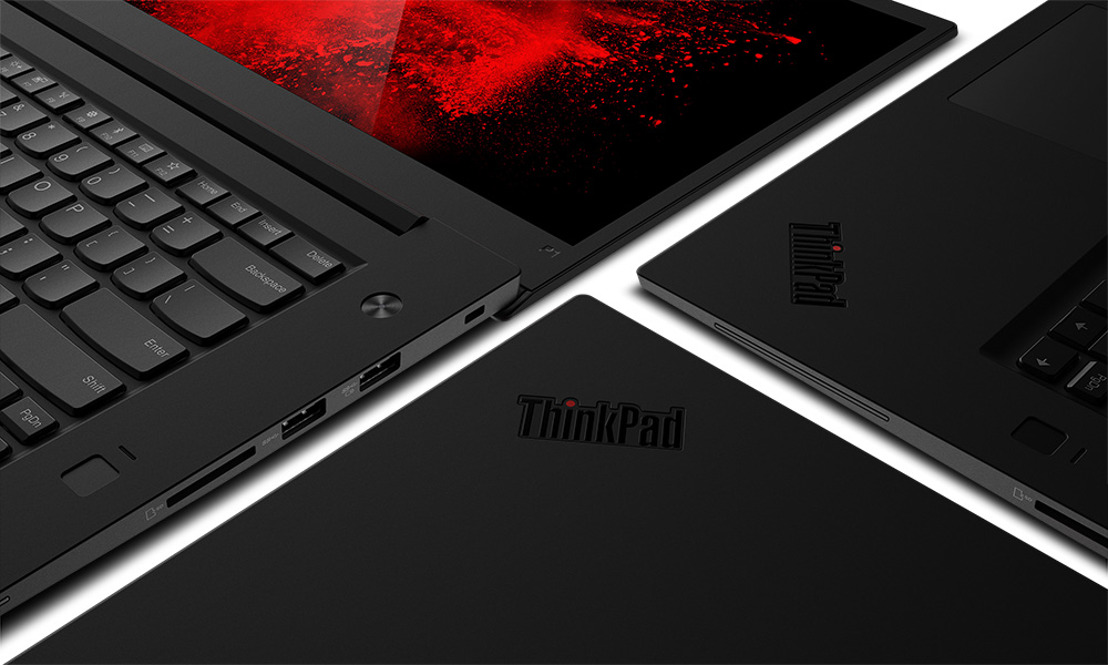 De nieuwe ThinkPad P1 en P72
Dinsdag 14 augustus 2018 — Lenovo lanceert de ThinkPad P1, het dunste en lichtste mobile workstation van Lenovo. De ThinkPad P1 beschikt over 8th Gen Intel® Xeon® en Core™-processors, inclusief ondersteuning voor de Core i9 CPU. Daarnaast biedt het toestel ECC-geheugenondersteuning en kloksnelheden tot 4,6 GHz. Gebruikers hebben betere prestaties door de nieuwste NVIDIA Quadro P1000 en P2000 professionele grafische kaarten. Dit mobile workstation biedt niet alleen grafische elementen en processoren, maar ook een 15-inch, 4K UHD-scherm met 100% van het Adobe-kleurengamma. Ook heeft de ThinkPad P1 een touchscreen, IR-camerastandaard, 4TB M.2 PCIe Premier-opslag en 64GB geheugen van 2667MHz.
Lenovo introduceert ook de nieuwe ThinkPad P72. Speciaal ontworpen voor gebruikers die op zoek zijn naar topprestaties. De ThinkPad P72 is de ideale keuze voor gebruikers in de olie- en gasindustrie, de auto-industrie en de financiële sector. Dit 17-inch-model bevat de nieuwste 8e generatie Intel® Xeon®- en Core™-processors en de krachtigste NVIDIA® Quadro-graphics - tot P5200. De ThinkPad P72 heeft maximaal 6TB aan opslagruimte, 128GB geheugen en 16GB Intel ® Optane™-geheugen.
De ThinkPad P1 is beschikbaar vanaf september aan € 2 339,-
De ThinkPad P72 is beschikbaar vanaf september aan € 2 519,-
Meer informatie vind je hier of in het Engelstalige persbericht onderaan.
________________
UK PRESS RELEASE
Style and Power Join Forces with the New ThinkPad P1 Mobile Workstation
Today, Lenovo is launching a brand-new addition to its ThinkPad mobile workstation portfolio – the ThinkPad P1. Lenovo's thinnest, lightest and sleekest mobile workstation, the ThinkPad P1 gives users the style they want and the performance they need.
The ThinkPad P1 fulfills the desire for workstation performance and reliability in a thin and light design. The result is an ideal recipe of workstation power and an ultra-premium look and feel.
There is arguably no company that better combines high performance with beauty better than luxury sports car manufacturer, Aston Martin. For them, the ThinkPad P1 represents not only an opportunity to increase productivity, but to also work with a high quality and performing product within a fast-paced environment
"At Aston Martin, we are committed to a high standard of excellence with a drive to push to the next- level," said Neil Jarvis, Director of IT and Innovation, Aston Martin. "We see the expression of similar values in the creation of the new ThinkPad P1 Whether it's our creative team benefiting from the professional graphics and stunning display or our executive team looking for an ultra-thin and light system with a touch of style, the ThinkPad P1 is the right fit for a variety of users across our company."
The ThinkPad P1 gives users a premium experience – both in look and feel and superior construction and components. With a signature, black finish, glass touchpad and seamless keyboard, and premium packaging the ThinkPad P1 has the high-end design that users expect.
This attention to detail even extends to the power supply. Customers know a thin and light workstation is nothing if it still comes with a bulky power supply. That's why the ThinkPad P1 power supply is 35 percent smaller and lighter than predecessors.
Certified for key ISV applications, the ThinkPad P1 features 8th Gen Intel® Xeon® and Core™ processors, including support for the Core i9 CPU, and delivers ECC memory support and clocks speeds up to 4.6GHz. Users can also enjoy a boost in performance with the latest NVIDIA Quadro P1000 and P2000 professional graphics cards.
In addition to its graphics and processors, this mobile workstation offers a 15-inch, 4K UHD display, representing 100% of the Adobe color gamut, as well as a touchscreen, IR camera standard, 4TB of M.2 PCIe premier storage and 64GB of memory at 2667MHz.
With more than 25 years of experience developing the best commercial laptops, ThinkPad P1 design engineers chose the best features from the ThinkPad portfolio to maximize power, performance and premium design from top to bottom.
"When we set out to create the ThinkPad P1, we knew our challenge was to build a mobile workstation that would carry the legacy of professional power and reliability of our ThinkPad portfolio, but also meet our customer's need for a thin, light and sleek design," said Rob Herman, General Manager of
Workstations, Lenovo. "Whether you are looking for power, the lightest mobile workstation around or sleek and slim tech-envy, the ThinkPad P1 delivers on all counts, period."
Today, Lenovo is also introducing its new ThinkPad P72. Purpose-built for users looking for top of the line power and performance; it demonstrates Lenovo's capabilities in simultaneously addressing different customer needs and market segments. The ThinkPad P72 is the ideal choice for users in the oil and gas, automotive and financial industries. A true desktop replacement, this 17-inch chassis includes the latest 8th Gen Intel® Xeon® and Core™ processors, and the most powerful NVIDIA® Quadro graphics
– up to P5200 – to tackle the most demanding workflows with ease. With up to 6TB of storage, 128GB of memory and 16GB of Intel ® Optane ™ memory, users can handle immense data sets with vast amounts of compute power.
To learn more about the ThinkPad P1 and the ThinkPad P72, visit www.lenovo.com/thinkworkstations.