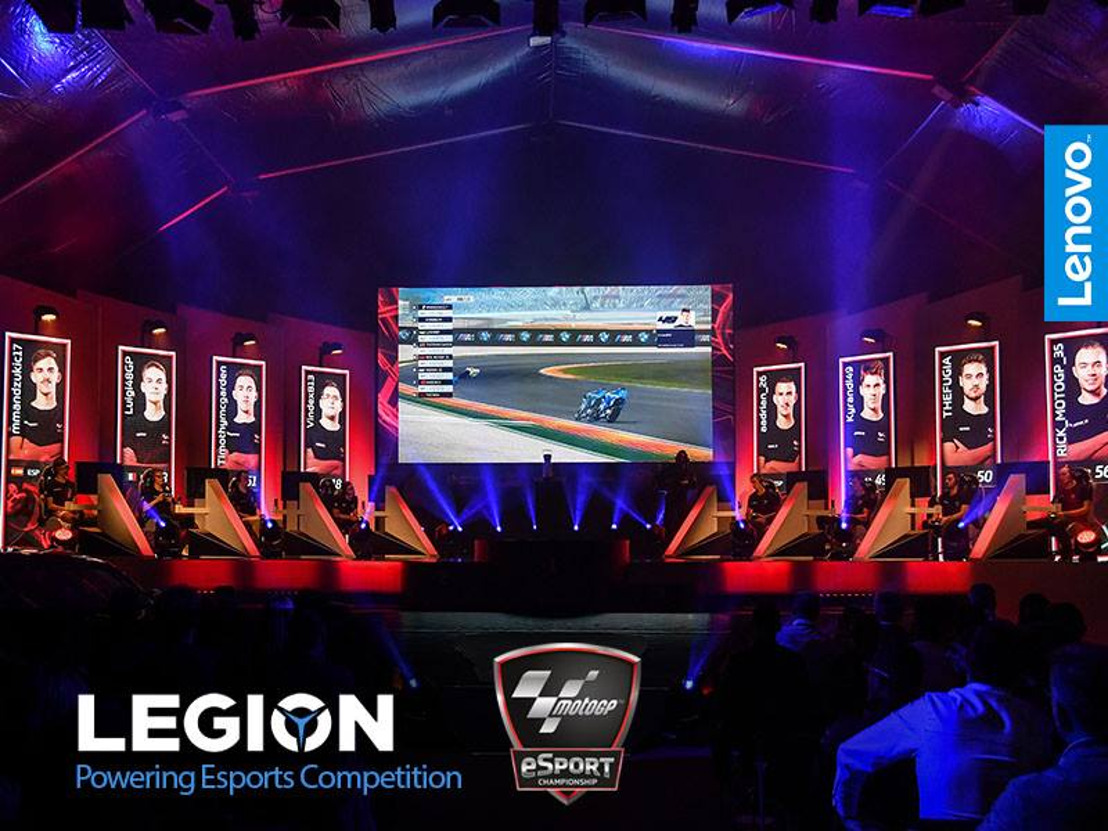 Dorna Sports werkt samen met Lenovo™ voor MotoGP™ eSport Championship
Dinsdag 21 augustus 2018 — Dorna Sports kondigt een meerjarige wereldwijde samenwerking met Lenovo aan. Lenovo wordt de exclusieve technologiesponsor van het MotoGP eSport Championship en de exclusieve leverancier van gaming-pc's, monitoren en accessoires voor de live evenementen van het kampioenschap. Naast het co-branding sponsorschip zullen de gamers spelen op Lenovo Legion's high-performance gaming-apparaten.
De eerste Lenovo Legion-powered halve finale vindt plaats op het Misano World Circuit Marco Simoncelli in september, gevolgd door het Movistar eSports Center in Madrid in oktober en de Grand Finale MotoGP seizoensfinale in Valencia in november.
Maak je klaar voor nog een seizoen racen, nu mogelijk gemaakt door Lenovo Legion. Ga voor meer informatie over Lenovo Legion naar www.lenovo.com/legion of volg @LenovoLegion op Twitter, Facebook, YouTube, Instagram en Twitch.
Meer informatie vind je in het Engelstalige persbericht onderaan of via de website van Lenovo.
__________________
UK PRESS RELEASE
Dorna Sports Partners with Lenovo™ for MotoGP™ eSport Championship
Gaming PC brand, Lenovo Legion™, sponsors 2018's fastest eSports series on two wheels
Dorna Sports is delighted to announce a multi-year global partnership with Lenovo as the exclusive technology sponsor of the MotoGP eSport Championship, and exclusive provider of gaming PCs, monitors and accessories for the Championship's live events. In addition to a co-branding sponsorship, the Championship players will game on Lenovo Legion's high-performance gaming devices for a smooth and immersive experience.
This key partnership will power the Championship to new heights as contestants once again race for incredible prizes this season. Eight online challenges with live onsite semi finals and the season finale event to follow later in the year. The Lenovo Legion-powered Semi-Final 1 will take place at the Misano World Circuit Marco Simoncelli in September, followed by the Movistar eSports Center in Madrid in October, and culminating in the Grand Final MotoGP season finale in Valencia in November.
"Given eSports is one of the fastest growing areas in both gaming and sport viewing that's captivating millions of fans around the world, sponsoring Dorna's MotoGP eSport Championship is the natural step from our technology partnership in the MotoGP World Championship. It gives us the opportunity to deliver powerful and immersive experiences to the global gaming community – bringing together our Lenovo Legion gaming technology with Dorna's critically acclaimed MotoGP game," said Gianfranco Lanci, Lenovo Corporate President and Chief Operating Officer.
"I'm thrilled that Lenovo will be a part of the MotoGP eSport Championship," said Pau Serracanta, Managing Director, Dorna Sports. "The Lenovo Legion gaming PC brand stands for sleek and powerful performance and with this partnership, some of the best gamers in the world will now be able to play on the Lenovo Legion devices during the Semi-Finals and the Grand Final. I'm confident this agreement between Lenovo and the MotoGP eSport Championship will welcome a future full of success."
Get ready for another season of racing action, now powered by Lenovo Legion. For more information on Lenovo Legion visit www.lenovo.com/legion or follow @LenovoLegion on Twitter, Facebook, YouTube, Instagram and Twitch.
About MotoGP eSport
The critically-acclaimed MotoGP™ eSport Championship returns in 2018, with more challenges, more chances to win, and an increased number of platforms available to compete on, making it sure to be a bigger and better show than ever before. For this season, the competition is available for players on the three gaming platforms: Sony PlayStation® 4, Xbox One and PC, giving more opportunities for gamers to become World Champion. For more information on MotoGP eSport Championship visit esport.motogp.com or follow @MotoGPeSport on Twitter, Facebook, YouTube, Instagram and Twitch.
About Dorna Sports
Dorna Sports is an international sports management, marketing and media company, founded in 1988. The organisation has its headquarters in Madrid, and further branch offices in Barcelona, Rome and Tokyo. Dorna has been the exclusive commercial and television rights holder for the FIM Road Racing World Championship Grand Prix MotoGP since 1992. With more than 60 years of history MotoGP™ is the pinnacle of motorcycle racing. Dorna has an all-encompassing Grand Prix event management philosophy, with 360º direct involvement in all areas of the MotoGP™ World Championship. Dorna has additional involvement in further motorcycling events, such the eni FIM World Superbikes Championship (WSBK), the FIM CEV Repsol International Championship and the Red Bull MotoGP Rookies Cup, which seeks to promote the development of the next generation of riding talent.