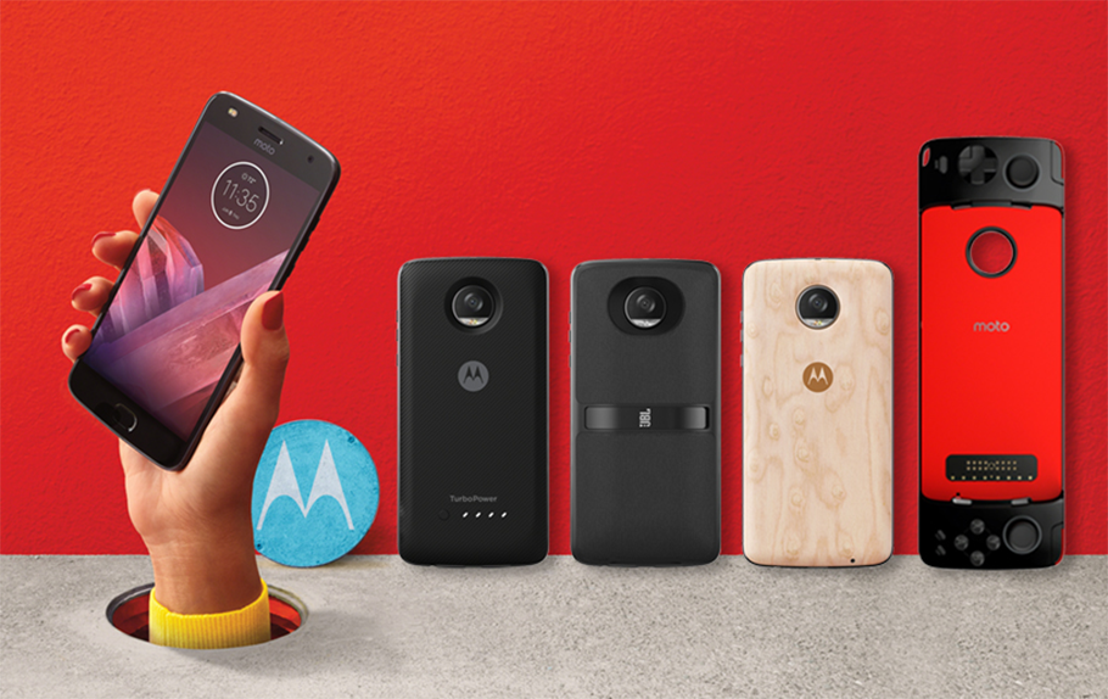 Hallo nieuwe Moto Z² Play en Moto Mods!
Donderdag 1 juni 2017 — Een jaar na de lancering van de modulaire Moto Z™ met Moto Mods, kondigen we vandaag de next gen Moto Z² Play aan met nieuwe Moto Mods voor een ongeziene mobiele innovatie.
Moto Z² Play: dunner, lichter en sneller
De tweede generatie Moto Z² Play is voorzien van een dunner en lichter ontwerp en levert snellere prestaties. Het volledig metalen unibody-ontwerp ziet er niet alleen goed uit, maar zorgt ook voor bescherming tegen de dagelijkse slijtage waar telefoons mee te maken hebben. Het 5.5" Full-HD-Super AMOLED-scherm zorgt voor haarscherpe details, ongeacht wat je bekijkt. Een batterij die maximaal 30 uur meegaat en een 2.2GHZ octa-core processor zorgen ervoor dat je de dag ruimschoots doorkomt. Mocht je 's nachts je Moto Z² Play zijn vergeten op te laden dan is dit geen probleem. In slechts 15 minuten gaat je telefoon weer acht uur mee.
Dankzij de combinatie van laser autofocus en dual autofocus pixeltechnologie schiet je met de Moto Z² Play heldere, scherpere foto's, zelfs bij weinig licht. Het toestel is verder voorzien van een 5MP voorcamera en dual color corrected flash.
De nieuwe Moto Z² Play biedt ook nieuwe Moto-ervaringen. Zo past de Night Display functie je scherm 's nachts automatisch aan naar een warmere tint, waardoor het blauwe licht dat je slaap kan verstoren minder wordt. De nieuwe directe vragen in Moto Voice bieden nuttige informatie zoals weer- of agenda-updates of starten automatisch een app zonder dat je de telefoon hoeft aan te raken of ontgrendelen. Verder is de telefoon voorzien van een herontworpen vingerafdrukscanner.
Moto Mods: meer dan alleen een smartphone
Vorig jaar werden de Moto Mods geïntroduceerd om transformatieve nieuwe functies toe te voegen die niet beschikbaar zijn op andere smartphones. Met deze nieuwe Mods wordt nog meer mogelijk.
Moto GamePad: verander de manier waarop je gamet

Eén van de nieuwe Moto Mods is de Moto GamePad. Deze Moto Mod maakt het mogelijk om je Moto Z in één klik te veranderen in een handheld gaming console. Maak gebruik van de dual control sticks, D-pad en vier action buttons voor een echte gaming-ervaring, ongeacht waar je bent. Met de ingebouwde batterij van 1035mAh kun je je vrienden eruit spelen.

JBL Soundboost 2: high quality geluid in één klik

De tweede Moto Mod is de geupgrade JBL SoundBoost 2 en laat je tien uur lang muziek spelen. De Mod is voorzien van een waterafstotende coating, verkrijgbaar in de kleuren rood, blauw of zwart en zo ontworpen dat hij beter aanvoelt in je hand. Ook deze SoundBoost 2 is voorzien van een ingebouwde klikstand. Met de nieuwe My JBL Soundboost 2 applicatie kan je het geluid daarbij nog meer naar wens tunen.

Moto TurboPower Pack: snel overal opladen

Bepaal zelf hoe je je smartphone oplaadt met de nieuwe Moto TurboPower Pack. Voeg een extra dag aan batterij toe wanneer je echt het maximale aan batterij nodig hebt. Laadt je batterij onderweg op (tot 15W) wanneer je wat extra batterij nodig hebt. Mocht je powerpack nu bijna leeg zijn, dan is hij in slechts 20 minuten weer tot 50% opgeladen.

Moto Style Shell: opladen in stijl

De vierde Moto Mod is de Moto Style Shell. Deze nieuwe Mod maakt snel draadloos opladen (tot 10W) voor je Moto Z mogelijk en verschijnt in een ultradun, stylish design.
Beschikbaarheid
De Moto Z² Play en nieuwe Moto Mods zijn later dit jaar beschikbaar in EMEA.
Foto's kunnen hier gedownload worden (gelieve akkoord te gaan met onze licentievoorwaarden bij het downloaden van afbeeldingen of video).
_______________________
UK PRESS RELEASE
Say Hello to New Possibilities with Moto Z2 Play and Moto Mods
Since our launch last year, the Moto ZTM family of smartphones with Moto ModsTM has allowed people to do things they never thought were possible with a phone. From projecting a 70" screen wherever you are, to turning your phone into a camera with 10x optical zoom, the Moto Mods platform offers unprecedented mobile innovation.
The Moto Mods ecosystem continues to grow. We're adding more Moto Mods into the mix -- and we're committed to continuing this. With the next generation of products, you can experience new ways to transform your smartphone.
Moto Z2 Play: Thinner, Lighter & Faster
With a thinner, lighter design and faster performance, the second generation Moto Z2 Play delivers on the features you care about, while still offering transformative experiences with Moto Mods.
With a powerful combination of style and strength, Moto Z2 Play features an all-metal unibody design that not only looks great, but stands up to everyday wear and tear. The 5.5" Full HD Super AMOLED display offers razor sharp details, no matter what you're looking at. You get up to 30 hours of battery life and a 2.2GHz octa-core processor to power through your day – and well into the next1. Forget to charge your Moto Z2 Play overnight? No problem – get up to eight hours of power in just 15 minutes of charging.2
You'll take brighter, sharper photos, even in low light, with the combination of laser autofocus and dual autofocus pixel technology on Moto Z2 Play. The next generation laser autofocus has an expanded range of up to 5 meters, so you can focus on objects 3 times further in a virtually dark environment. And with the 5MP front camera and dual colour corrected flash, you'll look great in your selfies day or night.
Moto Z2 Play offers great Moto Experiences too. The Night Display feature will automatically adjust your screen to warmer tones at night, reducing the blue light that can disrupt your sleep. And the new instant queries in Moto Voice will provide helpful info like weather or calendar updates, or automatically launch an application without having to touch or unlock your phone. With a redesigned fingerprint reader, you can activate one button nav to quickly move through screens. Swipe left to go back, right to access recent apps, tap to go home, and use one long press to lock your phone. And with no buttons to clutter the screen, you get a much better view.
While this precision crafted smartphone is impressive on its own, Moto Z2 Play can also instantly transform into exactly what you need, when you need it, when paired with Moto Mods.
Moto Mods: Go Beyond Your Smartphone
Last year, we introduced Moto Mods, to add transformative new functions that aren't available on any other smartphones. Now, we're giving you even more possibilities in mobile modularity.
Change the Way You Game
Finally take control of your mobile gaming with the Moto GamePad. This new Moto Mod allows you to transform your Moto Z into a handheld gaming console with a simple snap. Use the dual control sticks, D-pad and four action buttons for a true gaming experience, no matter where you are. And with the 1035mAh built-in battery, you can outplay your friends.
High Quality Sound in a Snap
The first generation JBL SoundBoost helped you get the party started, and with the upgraded JBL SoundBoost 2, the party keeps on rockin'. The new SoundBoost 2 gives you a full party's worth of music with 10 hours of playtime built right in. And with its water-repellent coating, a little spill or splash won't stop the music either. It comes in red, blue or black, features a more premium design with fabric and improved contours for a better feel in your hand, and it's also compatible with the new JBL EQ app.
There's also a new app available, called My JBL SoundBoost 2, so that you can adjust the sound just the way you like it. Whether you're listening to music, watching videos or even cheering on your favourite team, the built-in kickstand gives you a truly immersive audio-visual experience. All in a snap, with no pairing required.
Get the fast charging of TurboPower, anywhere
Choose how you charge with the Moto TurboPower Pack. Instantly add an extra day of battery life when maximizing power is a priority. Or recharge your phone fast (up to 15W) on the go when you need to power up. And if your power pack runs out of juice, plug it in and power up to 50% of capacity in just 20 minutes.
Power up in Style
Cut the cord – and the clutter – with a Moto Style Shell with Wireless Charging. Add fast wireless charging (up to 10W) to your Moto Z in an ultra-sleek, stylish design. It's available in a variety of finishes so your phone always fits your style.
Availability
Moto Z2 Play and the new Moto Mods will be available throughout EMEA countries later this year and will be announced accordingly.
Images can be found here (please agree to our license terms when downloading images or video).
1 Applies to NA, EMEA + India; up to 24 hours in ROW. All battery life claims are approximate and based on an average user profile that includes both usage and standby. Actual battery performance will vary and depends on signal strength, network configuration, features selected, and voice, data, operating temperature and other application usage patterns. 3000 mAh is the typical capacity
2 Applies to NA, EMEA + India; 7 hours in 15 minutes ROW. Battery must be substantially depleted; charging rate slows as charging progresses. All battery life claims are approximate and based on an average user profile that includes both usage and standby. Actual battery performance will vary and depends on many factors including signal strength, network configuration, age of battery, operating temperature, features selected, device settings, voice, data, and other application usage patterns.
3 Actual available capacity of user storage and internal memory is less because the operating system, software and other functions which utilize part of this capacity. The available capacity may change with software updates. microSD card sold separately. Content with DRM restrictions may not be able to be moved to the card.
Designed and manufactured by Motorola Mobility, a wholly owned subsidiary of Lenovo.
MOTOROLA, Stylized M Logo, MOTO and the MOTO family of marks are trademarks of Motorola Trademark Holdings, LLC. Android is a trademark of Google Inc. All other trademarks are the property of their respective owners. © 2017 Motorola Mobility LLC. All rights reserved.
About Motorola
Motorola Mobility LLC was acquired by Lenovo Group Holdings in 2015. Motorola Mobility is a wholly owned subsidiary of Lenovo, and is responsible for designing and manufacturing all Moto branded mobile handsets.
About Lenovo
Lenovo (HKSE: 992) (ADR: LNVGY) is a US$45 billion global Fortune 500 company and a leader in providing innovative consumer, commercial, and enterprise technology. Our portfolio of high-quality, secure products and services covers PCs (including the legendary Think and multimode Yoga brands), workstations, servers, storage, smart TVs and a family of mobile products like smartphones (including Motorola), tablets and apps. Join us on LinkedIn, follow us on Facebook or Twitter (@Lenovo) or visit us at www.lenovo.com
Claudia Petré PR Consultant at youEngine