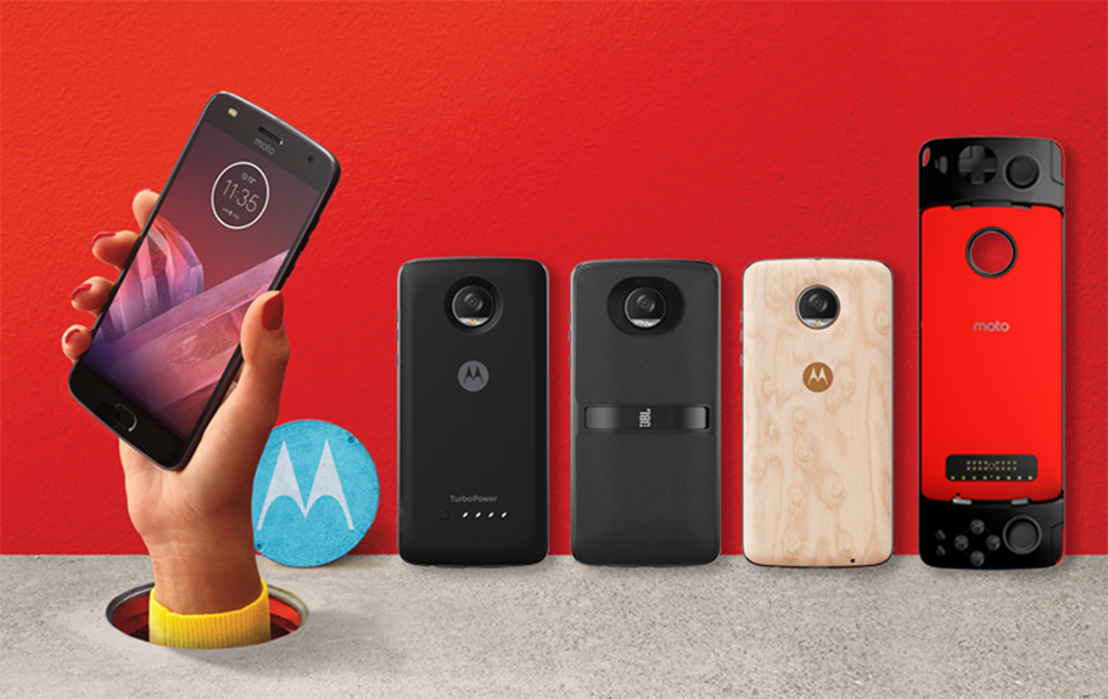 Hello nouveaux Moto Z² Play et Moto Mods !
Jeudi 1 juin 2017 — Un an après le lancement du Moto Z™ avec ses Moto Mods, nous annonçons aujourd'hui le Moto Z² Play de nouvelle génération, avec des nouveaux Moto Mods pour une innovation mobile inégalée.
Moto Z² Play : plus fin, plus léger et plus rapide
La deuxième génération du Moto Z² Play arbore un look plus mince et plus léger, et affiche des performances plus rapides. Le boîtier monocoque totalement métallique est non seulement esthétique, mais il protège aussi de l'usure quotidienne à laquelle sont confrontés les téléphones. L'écran Super AMOLED Full-HD de 5,5 pouces affiche des détails très nets, peu importe ce que vous regardez. Une batterie d'une autonomie de maximum 30 heures et un processeur octa-core de 2,2 GHZ permettent de tenir toute la journée sans problème. Si vous avez oublié de charger votre Moto Z² Play la journée, cela ne constitue pas un problème. En seulement 15 minutes, votre téléphone est chargé pour huit heures.
Grâce à la combinaison de l'autofocus laser et de la technologie dual pixel autofocus, vous prenez des photos nettes avec le Moto Z² Play, même par faible luminosité. De plus, l'appareil est équipé d'une caméra frontale de 5 MP et d'un flash dual color corrected.
Le nouveau Moto Z² Play offre également de nouvelles expériences Moto. La fonction Night Display adapte par exemple automatiquement votre écran la nuit pour qu'il adopte une teinte plus chaude, afin que la lumière bleue susceptible de perturber votre sommeil vous ennuie moins. Les nouvelles questions directes dans le Moto Voice vous donnent des informations utiles comme les mises à jour de la météo et de l'agenda ou lancent automatiquement une app sans que vous ne deviez toucher ou déverrouiller votre téléphone. L'appareil est en outre équipé d'un scanner d'empreintes digitales repensé.
Moto Mods : bien plus qu'un simple smartphone
L'an dernier, les Moto Mods ont vu le jour pour ajouter de nouvelles fonctions transformatives non disponibles sur d'autres smartphones. Avec ces nouveaux Mods, les possibilités s'étendent encore.
Moto GamePad: nouvelle façon de jouer

Le Moto GamePad est l'un des nouveaux Moto Mods. Il permet de transformer en un clic votre Moto Z en une console de jeu portable. Utilisez les dual control sticks, le D-pad et les quatre boutons d'action pour une véritable expérience gaming, où que vous soyez. Avec la batterie intégrée de 1035 mAh, vous pouvez surpasser vos amis.

JBL Soundboost 2: son de grande qualité en un clic

Le deuxième Moto Mod est le SoundBoost 2 de JBL amélioré, qui vous permet de lire de la musique pendant dix heures. Le Mod est équipé d'un revêtement résistant à l'eau, disponible en rouge, bleu ou noir et conçu de sorte à mieux tenir en main. Ce SoundBoost 2 est également équipé d'une béquille intégrée. Avec la nouvelle application My JBL Soundboost 2, vous pouvez en outre régler le son encore plus selon vos envies.

Moto TurboPower Pack: chargement rapide et partout

Déterminez vous-même comment vous chargez votre smartphone avec le nouveau Moto TurboPower Pack. Ajoutez une journée supplémentaire d'autonomie à votre appareil quand vous avez vraiment besoin d'un maximum de batterie. Chargez votre batterie en déplacement (jusqu'à 15 W) quand vous avez besoin d'un peu plus de batterie. Et si votre TurboPower Pack est presque plat, 20 minutes suffisent pour le recharger de 50 %.

Moto Style Shell: chargement avec élégance

Le quatrième Moto Mod est le Moto Style Shell. Ce nouveau Mod permet de charger rapidement votre Moto Z sans fil (jusqu'à 10 W), et se pare d'un design élégant et ultra fin.
Disponibilité
Le Moto Z² Play et les nouveaux Moto Mods seront disponibles plus tard cette année dans la région EMEA.
Vous pouvez télécharger des photos ici (veuillez accepter nos conditions de licence lors du téléchargement d'illustrations ou de vidéos).
_______________________
UK PRESS RELEASE
Say Hello to New Possibilities with Moto Z2 Play and Moto Mods
Since our launch last year, the Moto ZTM family of smartphones with Moto ModsTM has allowed people to do things they never thought were possible with a phone. From projecting a 70" screen wherever you are, to turning your phone into a camera with 10x optical zoom, the Moto Mods platform offers unprecedented mobile innovation.
The Moto Mods ecosystem continues to grow. We're adding more Moto Mods into the mix -- and we're committed to continuing this. With the next generation of products, you can experience new ways to transform your smartphone.
Moto Z2 Play: Thinner, Lighter & Faster
With a thinner, lighter design and faster performance, the second generation Moto Z2 Play delivers on the features you care about, while still offering transformative experiences with Moto Mods.
With a powerful combination of style and strength, Moto Z2 Play features an all-metal unibody design that not only looks great, but stands up to everyday wear and tear. The 5.5" Full HD Super AMOLED display offers razor sharp details, no matter what you're looking at. You get up to 30 hours of battery life and a 2.2GHz octa-core processor to power through your day – and well into the next1. Forget to charge your Moto Z² Play overnight? No problem – get up to eight hours of power in just 15 minutes of charging.2
You'll take brighter, sharper photos, even in low light, with the combination of laser autofocus and dual autofocus pixel technology on Moto Z2 Play. The next generation laser autofocus has an expanded range of up to 5 meters, so you can focus on objects 3 times further in a virtually dark environment. And with the 5MP front camera and dual colour corrected flash, you'll look great in your selfies day or night.
Moto Z2 Play offers great Moto Experiences too. The Night Display feature will automatically adjust your screen to warmer tones at night, reducing the blue light that can disrupt your sleep. And the new instant queries in Moto Voice will provide helpful info like weather or calendar updates, or automatically launch an application without having to touch or unlock your phone. With a redesigned fingerprint reader, you can activate one button nav to quickly move through screens. Swipe left to go back, right to access recent apps, tap to go home, and use one long press to lock your phone. And with no buttons to clutter the screen, you get a much better view.
While this precision crafted smartphone is impressive on its own, Moto Z2 Play can also instantly transform into exactly what you need, when you need it, when paired with Moto Mods.
Moto Mods: Go Beyond Your Smartphone
Last year, we introduced Moto Mods, to add transformative new functions that aren't available on any other smartphones. Now, we're giving you even more possibilities in mobile modularity.
Change the Way You Game
Finally take control of your mobile gaming with the Moto GamePad. This new Moto Mod allows you to transform your Moto Z into a handheld gaming console with a simple snap. Use the dual control sticks, D-pad and four action buttons for a true gaming experience, no matter where you are. And with the 1035mAh built-in battery, you can outplay your friends.
High Quality Sound in a Snap
The first generation JBL SoundBoost helped you get the party started, and with the upgraded JBL SoundBoost 2, the party keeps on rockin'. The new SoundBoost 2 gives you a full party's worth of music with 10 hours of playtime built right in. And with its water-repellent coating, a little spill or splash won't stop the music either. It comes in red, blue or black, features a more premium design with fabric and improved contours for a better feel in your hand, and it's also compatible with the new JBL EQ app.
There's also a new app available, called My JBL SoundBoost 2, so that you can adjust the sound just the way you like it. Whether you're listening to music, watching videos or even cheering on your favourite team, the built-in kickstand gives you a truly immersive audio-visual experience. All in a snap, with no pairing required.
Get the fast charging of TurboPower, anywhere
Choose how you charge with the Moto TurboPower Pack. Instantly add an extra day of battery life when maximizing power is a priority. Or recharge your phone fast (up to 15W) on the go when you need to power up. And if your power pack runs out of juice, plug it in and power up to 50% of capacity in just 20 minutes.
Power up in Style
Cut the cord – and the clutter – with a Moto Style Shell with Wireless Charging. Add fast wireless charging (up to 10W) to your Moto Z in an ultra-sleek, stylish design. It's available in a variety of finishes so your phone always fits your style.
Availability
Moto Z2 Play and the new Moto Mods will be available throughout EMEA countries later this year and will be announced accordingly.
Images can be found here (please agree to our license terms when downloading images or video).
1 Applies to NA, EMEA + India; up to 24 hours in ROW. All battery life claims are approximate and based on an average user profile that includes both usage and standby. Actual battery performance will vary and depends on signal strength, network configuration, features selected, and voice, data, operating temperature and other application usage patterns. 3000 mAh is the typical capacity
2 Applies to NA, EMEA + India; 7 hours in 15 minutes ROW. Battery must be substantially depleted; charging rate slows as charging progresses. All battery life claims are approximate and based on an average user profile that includes both usage and standby. Actual battery performance will vary and depends on many factors including signal strength, network configuration, age of battery, operating temperature, features selected, device settings, voice, data, and other application usage patterns.
3 Actual available capacity of user storage and internal memory is less because the operating system, software and other functions which utilize part of this capacity. The available capacity may change with software updates. microSD card sold separately. Content with DRM restrictions may not be able to be moved to the card.
Designed and manufactured by Motorola Mobility, a wholly owned subsidiary of Lenovo.
MOTOROLA, Stylized M Logo, MOTO and the MOTO family of marks are trademarks of Motorola Trademark Holdings, LLC. Android is a trademark of Google Inc. All other trademarks are the property of their respective owners. © 2017 Motorola Mobility LLC. All rights reserved.
About Motorola
Motorola Mobility LLC was acquired by Lenovo Group Holdings in 2015. Motorola Mobility is a wholly owned subsidiary of Lenovo, and is responsible for designing and manufacturing all Moto branded mobile handsets.
About Lenovo
Lenovo (HKSE: 992) (ADR: LNVGY) is a US$45 billion global Fortune 500 company and a leader in providing innovative consumer, commercial, and enterprise technology. Our portfolio of high-quality, secure products and services covers PCs (including the legendary Think and multimode Yoga brands), workstations, servers, storage, smart TVs and a family of mobile products like smartphones (including Motorola), tablets and apps. Join us on LinkedIn, follow us on Facebook or Twitter (@Lenovo) or visit us at www.lenovo.com
Claudia Petré PR Consultant at youEngine