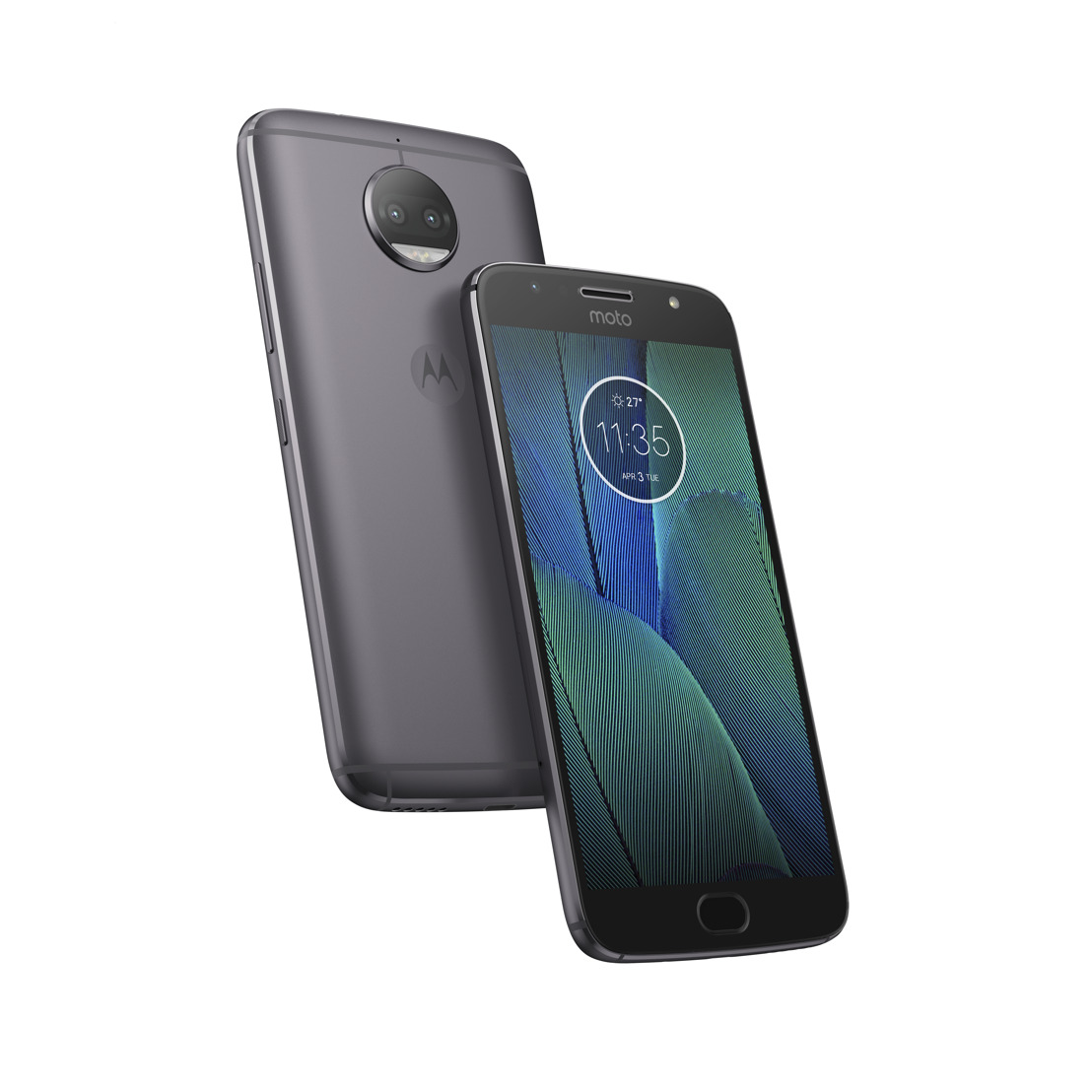 Maak kennis met de nieuwe Moto G⁵ˢ en Moto G⁵ˢ Plus
Dinsdag 12 september 2017 — Lenovo kondigt vandaag de komst van de Moto G⁵ˢ en Moto G⁵ˢ Plus aan, twee nieuwe toevoegingen van Motorola aan de Moto G-lijn. De toestellen zijn beiden speciale edities van het populaire Moto G5 toestel.
Moto G⁵ˢ: meer metaal, meer batterij en meer opties
De Moto G⁵ˢ heeft een volledig metalen unibody-design dat bestaat uit één stuk hoogwaardig aluminium. Dankzij de 3000 mAh batterij kun je de hele dag zonder oplader. Zit je toch zonder batterij? Dan is er de TurboPower™-lader, waarmee je in slechts 15 minuten weer 5 uur batterij hebt.
Het toestel beschikt over een 16MP-camera met hoge resolutie en fase-detectie autofocus (PDAF). Door deze snelle focustechnologie maak je altijd de perfecte foto. Met de 5MP groothoekcamera met LED-flits kun je eenvoudig selfies maken en maakt het niet uit of het dag of nacht is. De Moto G⁵ˢ heeft een 5,2" Full-HD display, een 1.4 Ghz octa-core processor en 4G snelheid. Je kunt dus al je filmpjes zonder onderbrekingen kijken en op hoge snelheid surfen op het web. Ook is deze smartphone voorzien van de laatste features zoals Night Display en Quick Reply.
Moto G⁵ˢ Plus: Selecteer je focus en laat je creativiteit de vrije loop
Voor wie het beste van het beste wil heeft Motorola de Moto G⁵ˢ Plus ontworpen. Dit toestel bezit nóg meer features, zoals een 13MP dual-camera aan de achterkant van het toestel, gecombineerd met speciale fotoverbeteringssoftware en een selectieve focus modus voor het schieten van professionele foto's.
De 8MP groothoekcamera van de Moto G⁵ˢ Plus heeft LED-flits en een nieuwe panoramische modus, zodat je nog meer kunt vastleggen. De Moto G⁵ˢ Plus beschikt ook over een indrukwekkend volledig metalen unibody-design en een 5,5 Full-HD display, dat perfect is om onderweg naar films te kijken. Daarnaast is het toestel voorzien van een supersnelle Qualcomm® Snapdragon™ 2.0 GHz octa-core processor, krachtige grafische mogelijkheden en ondersteuning voor 4G LTE, zodat je je favoriete apps kunt gebruiken zonder vertraging. Ook deze versie gaat dag en nacht mee door de 3000 mAh batterij inlcusief TurboPower™-lader.
Prijzen en beschikbaarheid
De Moto G⁵ˢ en Moto G⁵ˢ Plus zijn vanaf nu beschikbaar bij de gebruikelijke verkoopkanalen en zijn verkrijgbaar voor een prijs van € 229,- voor de Moto G⁵ˢ en €329,- voor de Moto G⁵ˢ Plus. Beide toestellen zijn in de Benelux verkrijgbaar in de kleur 'grijs'.
Meer informatie over het toestel kun je terugvinden in het persbericht onderaan en de specsheet in de bijlage.
_____________________
UK PRESS RELEASE
Special Edition: Read All About It - The New Moto G5S and Moto G5S Plus
Lenovo, through its Subsidiary, Motorola Mobility, today announced the special edition Moto G5S and Moto G5S Plus.
Motorola is all about innovating fast so we can always provide the best features to consumers. And the Moto G line has always been about finding ways to take the hottest new technology from premium phones and make it available to all. That's why we've further improved our beloved Moto G franchise. Meet Moto G5S and Moto G5S Plus. Building on Moto G5 and Moto G5 Plus, these two new devices offer several upgrades to the things you care about the most.
Moto G5S: More Metal. More Battery. Made for More.
Moto G5S is a smart, fast phone that's built on the concept of more. Starting from the outside, it offers an all-metal unibody design crafted from a single piece of high-grade aluminum, so it's not only beautiful, it's stronger than ever. With Moto G5S, you have the freedom to stay unplugged thanks to a 3000 mAh all-day battery* that holds enough power to get you through your day. Power up without slowing down with TurboPower™ charging for up to 5 hours of battery life in just 15 minutes.*
The special edition Moto G5S features a high resolution 16MP camera with phase detection autofocus (PDAF). This rapid focus technology means you don't have to worry about missing the perfect picture. Easily take group selfies thanks to a 5MP wide-angle front camera with an LED flash, so you'l look good day or night.
You don't have to spend a ton to get a world-class display. Moto G5S brings stunning 1080p entertainment to life on a vibrant 5.2" Full HD display. And backed by a 1.4GHz octa-core processor** and 4G speed, you can run your favorite apps smoothly, watch videos with stutter-free playback and browse the web at high speeds***. You can also do more with your fingerprint on Moto G5S, whether its unlocking your phone, effortlessly navigating the screen with a swipe or tap using one button nav or making mobile payments****. Moto G5S also features the latest Moto Experiences like Night Display and Quick Reply, just to name a few. Check out these exclusive experiences on the Moto app.
Moto G5S Plus: Select Your Focus. Unleash Your Creativity.
For those who want the best Moto G has to offer, the special edition Moto G5S Plus is for you, with even more top features such as dual cameras that let you do more, which until now, were reserved for premium phones. Dual 13MP rear cameras, combined with special photo enhancement software, makes it easy to do more with your photos. Selective focus mode makes it easy to take professional looking portraits on your phone, adding a beautiful blurred background effect. Or, have fun trying selective black and white coloring or replace background mode which give your photos a whole new look*****. And if you're tired of the same old selfies, the 8 MP wide-angle front camera on Moto G5S Plus has LED flash and a new panoramic mode so you can capture even more.
Moto G5S Plus comes with the size and precision-crafted look that you'd only expect to see on a premium device. It features an impressive all-metal unibody design and 5.5" Full HD display that's perfect for watching movies on the go. Moto G5S Plus also boasts a blazing-fast Qualcomm® Snapdragon™ 2.0 GHz octa-core processor, powerful graphics capabilities and support for 4G LTE so you can run your favorite apps without slowing down***.
Go from morning to night with a 3000 mAh all-day battery* that packs enough power to get you through your day. Plus, you can fuel up quickly with the TurboPower™ charger that gives you up to 6 hours of battery life in just 15 minutes.* The fingerprint reader on Moto G5S Plus does it all, from unlocking your phone to making mobile payments.**** We've also made Moto G5S Plus easier to use by adding Nigh Display and Quick Reply, two new Moto Experiences that are all part of our unique collection of meaningful software experiences.
With the new special edition Moto G5S and Moto G5S Plus, we're once again making premium features accessible for all.
The new Moto G5S is available from now on in grey for € 229,- and Moto G5s Plus from now on in grey for €329,-.
* Battery must be substantially depleted; charging rate slows as charging progresses. All battery life claims are approximate and based on an average user profile that includes both usage and standby. Actual battery performance will vary and depends on many factors including signal strength, network configuration, age of battery, operating temperature, features selected, device settings, voice, data, and other application usage patterns.
** Individual core processing speeds vary, and may not reach the maximum speed indicated.
***Certain features, functionality and product specifications may be network dependent and subject to additional terms, conditions, and charges. All are subject to change without notice.
**** NFC and app support required. Requires fingerprint authorization for purchase.
*****Selective black & white mode and replace background mode are in beta