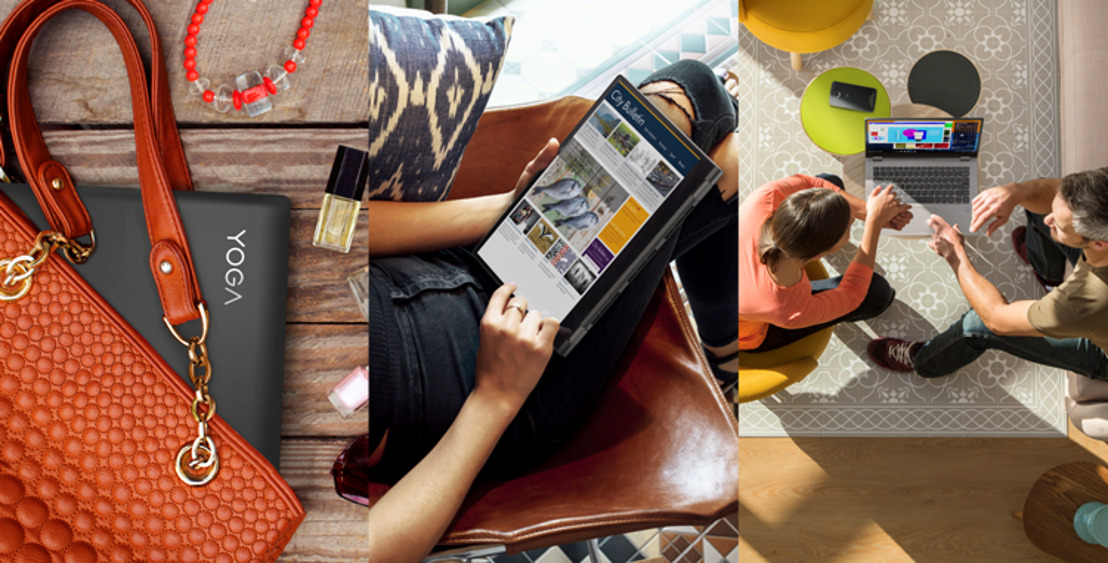 MWC 2018: Lenovo™ transformeert portfolio en richt zich op intelligence
Maandag 26 februari 2018 — Lenovo presenteert tijdens MWC 2018 haar 2018-visie op technologische innovatie. De kern van de Lenovo-strategie is de toepassing van Augmented Intelligence. Door nieuwe AR-, VR- en spraakgestuurde technologieën toe te passen op haar producten, biedt Lenovo je krachtige nieuwe manieren om te leven, werken en gamen. Van de intuïtieve nieuwe spraakgestuurde Yoga™ 2-in-1 laptops, tot innovatieve Moto Mods en geavanceerde datacenteroplossingen.
Nieuw in het 2-in-1-portfolio
Op MWC introduceert Lenovo nieuwe 2-in-1-modellen: de Yoga 730 (13-inch en 15-inch-modellen) en de 14-inch Yoga 530. De nieuwe Windows 10 convertibles zijn voorzien van moderne designs, krachtige laptopprestaties en zijn zo draagbaar als een tablet. Met ingebouwde Cortana en Alexa is de Yoga 730 een slimme handsfree assistent die spraakopdrachten herkent waar je ook bent in de kamer en meer keuzemogelijkheden heeft.
Een nieuwe smartphone-ervaring
Motorola is van mening dat technologie ons leven moet verrijken en niet mag afleiden. Daarom biedt Motorola verschillende intelligente oplossingen om te helpen de balans tussen telefoon en leven te houden. Onderdeel hiervan is de Motorola Health mod, die te zien is op MWC. Daarnaast kondigt het bedrijf een samenwerking aan met SPACE, die je via een app inzicht geeft in je telefoongebruik.
Een andere manier om de wereld te verbeteren
Lenovo's Data Center Group breidt haar activiteiten uit in de telecommunicatie en IoT. Lenovo lanceert een voor prestaties geoptimaliseerd aanbod op basis van Lenovo's ThinkSystem SR630/ SR630-servers en switches, Red Hat OpenStack Platform en Mellanox ConnectX-4 NIC's. Ook neemt Lenovo deel aan het 'Intel Select Solution for NFV'-programma en biedt het een oplossing die is geoptimaliseerd voor NFV-workloads op basis van encryptie en compressie. De oplossing bestaat uit Intel QuickAssist Technology (QAT) en Intel XXV710 NIC ingeschakeld op Lenovo SR650 / SR630-servers.
Lenovo bewijst bovendien haar #1-positie in x86-serverbetrouwbaarheid door het eerste 5G-ready basisstation in de industrie te presenteren.
Meer informatie kunt u vinden in het Engelstalige persbericht onderaan.
_________________________
UK PRESS RELEASE
Lenovo™ Sees Intelligence Transforming Everything at MWC 2018, From Devices to Data Center
Today, at MWC 2018, Lenovo reinforced its 2018 vision for technology innovations, moving its core strategy to Augmented Intelligence.
With its roots in the PC space, Lenovo has created one of the most complete collections of smart AI devices, giving it a unique advantage to provide the three key elements of Intelligence: Data, Computing Power and Algorithm.
Through new AR, VR and voice-activated technologies demonstrated at the show, Lenovo gives you powerful new ways to live, work and play. From intuitive new voice-enabled Yoga™ 2-in-1 laptops launched today, to transformative Moto Mods, to advanced data center solutions, Lenovo makes all the critical human connections to AI, from devices to data center.
A Different Smartphone Experience
At MWC, Motorola will be illustrating how it continues to challenge the industry with premium smartphone features at great value price points, and how innovation lives in our DNA with transformative Moto Mods that help you monitor your wellness, among other things. The Motorola Health Mod will be showcased, which allows you to easily measure five vital signs including accurate systolic and diastolic blood pressure, all via your moto z device.
Motorola will be sharing insights around its recently released global Phone-Life Balance Study which has been developed in partnership with Dr. Nancy Etcoff, renowned expert in Mind-Brain Behavior and the Science of Happiness at Harvard. The study identifies problematic behaviors that are impacting relationships with others and ourselves and shows how people are putting their phones before those they care about, with the most alarming findings tied to younger generations who have grown up in a digital world.
Motorola believes technology should enrich our lives, rather than distract from them and is offering intelligent solutions to help people manage their phone life balance. This includes a partnership with SPACE, an app that helps to make you more mindful of your phone usage, and Moto Experiences that support more intuitive mobile interactions.
A Different Approach to Voice
Lenovo's PC and Smart Devices business is developing new products to transform commercial and consumer experiences through Augmented Intelligence.
At MWC, Lenovo will be introducing the new Yoga 730 (in 13-inch and 15-inch models) and the new 14-inch Yoga 530 – the latest additions to its 2-in-1 family designed for the mobile generation. The new Windows 10-based convertibles feature modern designs, powerful laptop performance and tablet portability that have made the Lenovo Yoga an iconic premium laptop brand since it first pioneered the convertible form factor. The new Yoga 730 harnesses the power of AI to give you intelligent assistance hands-free. With both Cortana and Alexa built-in, it offers more choice and recognizes voice commands from across the room.
Lenovo's new trio of ruggedized Lenovo 500e, 300e 2-in-1's and 100e Chromebooks built for education are now available for consumers. Beyond the protective designs to guard against spills and drops the 300e Chromebook features Lenovo Enhanced Touch technology that allows the use of everyday objects to interact with the screen and the 500e Chromebook provides an EMR™ Pen with Google®'s innovative near lag-free algorithms for writing and sketching.
For smarter living, the new Lenovo Smart Display announced at CES 2018 makes using technology at home more convenient, intuitive and shared. It combines the voice capability of the Google Assistant™ with a vibrant, full HD touchscreen display.2 As the command hub for connected smart home devices, from lighting to heating and more, it can be controlled with just your voice or a quick glance at the display.
A Different Way to Experience Reality
Also launched at CES 2018, Lenovo will showcase how Augmented Intelligence continues to make its devices different and more immersive. The Lenovo Mirage™ Solo standalone VR headset and Lenovo Mirage Camera, a VR180 camera, lets you to create and consume your own VR content using Daydream™, the Google's mobile VR platform, while Star Wars™: Jedi Challenges with its Lenovo Mirage AR headset and Lightsaber controller breaks the boundaries of what's possible by letting fans experience Jedi training in AR.
A Different Way to Improve the World
Lenovo's Data Center Group continues to power the Intelligence Revolution by expanding into two new segments in Telecommunications and IoT.
As innovations in mobile and smart devices rapidly grow, the telecom industry is undergoing massive changes with 5G networks. Lenovo is uniquely positioned to disrupt the traditional telecom installed base and provide a seamless transition for communication service providers to the software defined world.
Lenovo is launching a performance optimized offering based on Lenovo ThinkSystem SR650/SR630 servers and switches, Red Hat OpenStack Platform, and Mellanox ConnectX-4 NICs for accelerated packet processing. In addition, Lenovo is joining the 'Intel Select Solution for NFV' program and offering a solution specially optimized for encryption and compression based NFV workloads. The solution is comprised of Intel QuickAssist Technology (QAT) and Intel XXV710 NIC enabled on Lenovo SR650/SR630 servers.
Leveraging its #1 position in x86 server reliability3, Lenovo will also demo the industry's first 5G-ready base station with software and virtualized implementation of the centralized and distributed units (CU/DU) – made possible through customer-led, joint collaboration with China Mobile.
Demonstrations of Lenovo's 'device to datacenter' solutions can be seen at Mobile World Congress in Barcelona, February 26 – March 1 at the Lenovo Showcase in Hall 3, Space 3N30. In the Intel booth, Lenovo will showcase a 'self-optimizing 5G network' solution based on Lenovo ThinkSystem SR650 servers.
Pricing and Availability
See http://news.lenovo.com/MWC2018 for information about pricing and availability for products.
Additional Blogs
1 Cortana and Alexa are available on the Yoga 730 with far-field voice-recognition technology supporting up to 4 meters away and in standby mode. Alexa capability is expected to be available in the US, Canada, UK and Germany. List of countries may expand over time.
2 FHD touchscreen display is available on the Lenovo Smart Display 10-inch model.
3 Information Technology Intelligence Consulting (ITIC) 2017 – 2018 Global Server Hardware, Server OS Reliability Report
LENOVO, LENOVO MIRAGE and YOGA are trademarks of Lenovo. GOOGLE, GOOGLE ASSISTANT and DAYDREAM are trademarks of Google, Inc. STAR WARS and related properties are trademarks and/or copyrights, in the United States and other countries, of Lucasfilm Ltd. and/or its affiliates. © & TM Lucasfilm Ltd. EMR is a trademark of Wacom Co., Ltd. ©2018, Lenovo Group Limited.